Enter Parameter Values
The Enter Parameter Values dialog allows you to specify parameter values for a report.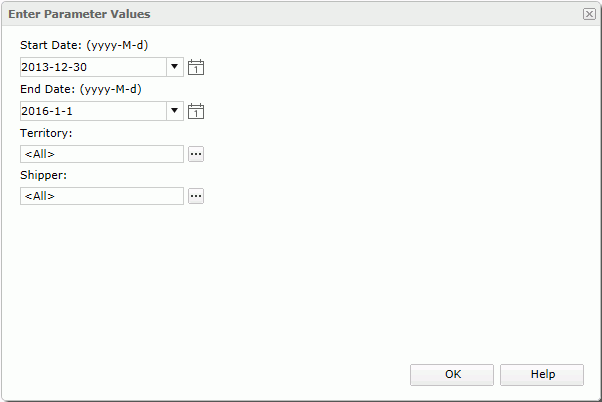 The way to specify a parameter value varies with the type and properties of the parameter. Here are several ways you can use to specify parameter values:
In the parameter value combo box, select the required one from the drop-down list or input the value manually.

When a parameter's values are encrypted, the value drop-down list will be disabled. In this case, if the Hide Parameter Value checkbox is available, you can uncheck it to enable the drop-down list to view and select the required value.

Select or unselect the checkbox to specify a Yes/No value.
Select the button to specify multiple values in the Enter Values dialog.
Select the calendar button to specify a date and time value.
OK
Accepts the parameter values for further processing.
Help
Displays the help document about this feature.