Enter Parameter Values
The Enter Parameter Values dialog box is used to specify parameter values for a report.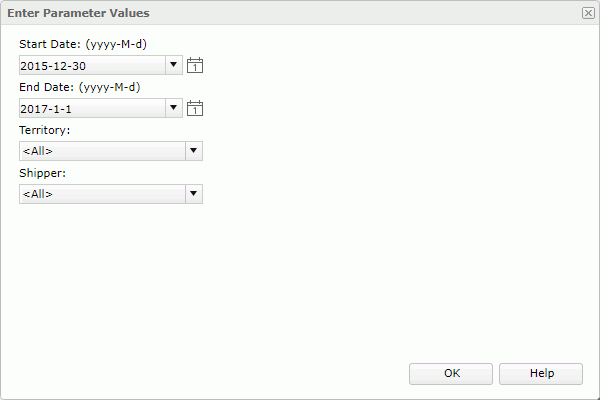 The way to specify a parameter value varies with the type and properties of the parameter. Here are several ways you can use to specify parameter values:
In the parameter value combo box, select the down arrow and then select the required value from the drop-down list. To ensure performance, by default at most 500 values are listed.

When a parameter's values are encrypted, the value drop-down list will be disabled. In this case, if the Hide Parameter Value check box is available, you can clear it to enable the drop-down list to view and select the required value.

Type the value manually in the parameter value text box if the parameter allows for type-in values but not multiple values.

Click in the parameter value combo box to specify multiple values in the Enter Values dialog box if the parameter allows for multiple values.
Select or clear the check box to specify a Yes/No value.
Select the Calendar icon to specify a date and time value.
OK
Accepts the parameter values for further processing.
Help
Displays the help document about this feature.